From Rivers To Wooded Areas: 8 Michigan Dog Parks You Should Check Out With Your Dog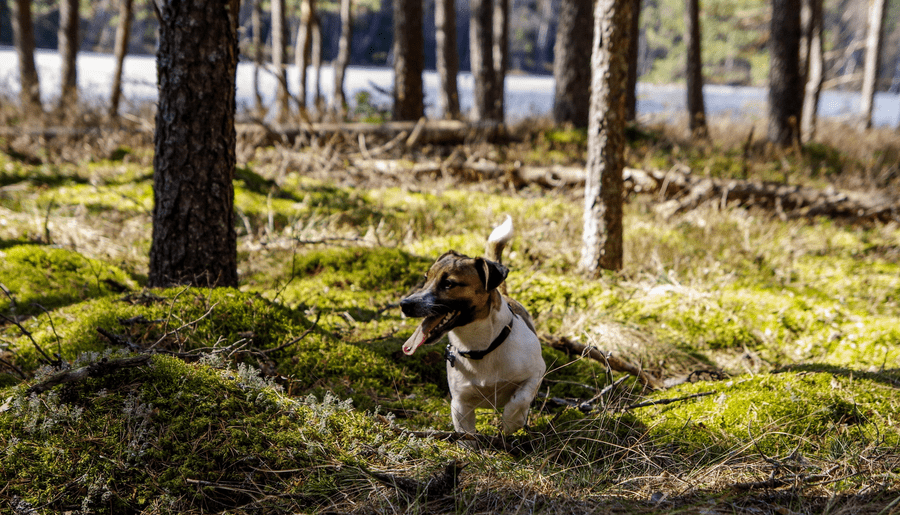 You'll find plenty of beautiful rivers, forests, and grassy fields in the best Michigan dog parks, so many fur parents love visiting the state for road trips.
If you've never been to the Great Lake State, here's a list of the top dog parks that might convince you to visit:
Best Michigan dog parks you should visit
1) Grand Ravines Dog Park
Location: 3991 Fillmore St, Jenison, Michigan 49428
One of the best features of Grand Ravines Park in Jenison is the dog park. It's divided into two for big dogs and small dogs.
Grand Ravines Dog Park also has a drinking fountain and breathtaking walking trails around the park up to part of the wooded areas.
It gets a little muddy when it rains, but there's a dog washing area on-site where you can clean up your dog.
The grass at the park is always well-maintained, and pet owners who frequent this Michigan dog park are kind and responsible.
You can check out the park's website for updates and announcements.
2) Shaggy Pines Dog Park
Location: 3895 Cherry Lane, Ada, Michigan 49301
Shaggy Pines Dog Park features 15 acres of fenced grounds where your dog can have fun leash-free.
The mile-long jogging and hiking trail on-site is lighted for evening use and plowed during winter.
You'll also find two large areas where your "dry" dogs can play.
But if you want to let your fur baby get a little wet and dirty, you can let them take a dip in the park's swimming pool.
Canines can also climb and dig to their heart's content at the "Doggy Mountain" or enjoy beautiful pond views with you at the park's sunset deck.
There's also a doggy store, dog wash tubs, drying areas, and a dedicated enclosed space for smaller dogs.
If you need to rest your feet, you can stop by the coffee bar and lounge area or eat your packed lunch at the tables and benches.
You can visit this Michigan dog park for a fee and even become a member to enjoy a few members-only benefits.
Check out the park's website for more details.
3) Mill Pond Dog Park
Location: 565 W Bennett St, Saline, Michigan 48176
Mill Pond Park is a 54-acre community park—one of the biggest in Saline, Michigan. It is home to Mill Pond Dog Park, a one-acre haven with excellent dog-friendly amenities.
It has a play structure and water access. There are also picnic areas, grills, and plenty of benches.
You'll also find plenty of nature trails and a pond on-site. In addition, residents often paint park announcements on the sizeable boulder at the park.
4) Canton Dog Park
Location: N Denton Rd, Canton, Michigan 48188
Canton Dog Park's 6-acre fenced-in space has separate areas for big and small dogs.
There's a water supply on-site, but it's turned off during winter, so you need to bring your water bottle. Waste stations are available at the park, too.
There's plenty of space at the park where your dog can run around and play.
Apart from that, the park also has a doggie pool during the summer months.
Visit the park's website to learn more about park rules and membership fees.
5) Swift Run Dog Park
Location: 4000 Platt Rd, Ann Arbor, Michigan, 48108
There are 10-acres of the fenced play area in Swift Run Dog Park, which includes a separate space for small dogs.
The park provides poop bags and plenty of waste receptacles around the area. Remember to bring a bottle of water for you and your dog.
You also need to secure a pass for your dogs before entering the park.
6) Red Oaks Dog Park
Location: 31353 Dequindre Rd, Madison Heights, Michigan 48071
There are four fenced enclosures at Red Oaks Dog Park. There's a shelter and canine drink-filling stations.
This 5.2-acre Michigan dog park also has street light illumination, which comes in handy during extended hours in fall and winter.
You need to get a license and make sure your dog is vaccinated before you can visit the park. Learn more about getting a dog license here.
7) Wayne County Dog Park
Location: 31845 Edward N Hines Dr, Westland, Michigan 48185
Fur parents who frequent this Michigan dog park say they love the park because it has excellent amenities.
There are separate spaces for big and small dogs with secure gates and fences at Wayne County Dog Park.
It's an ideal park to visit if you want your dog to get his daily exercise. It has agility equipment and plenty of space for games like fetch and tag.
You also need to get a license for your dog before he can visit the park.
8) The Pack Indoor Dog Park
Location: 5205 West River Dr NE Comstock Park, Michigan
If you don't want to bring your dog to an outdoor dog park, you can take him to The Pack Indoor Dog Park instead.
It's Michigan's first indoor off-leash dog park with a restaurant and a bar.
This Michigan dog park is climate-controlled the entire year, so you don't have to worry about whether or not it's too hot or cold for your dog to go out.
They also have an outdoor patio where you can hang out. But, of course, you can leave your dog at The Pack's Dog Daycare.
More dog-friendly things you can try in Michigan
Apart from visiting well-maintained Michigan dog parks, you can also check out other dog-friendly activities in the state.
Check out the dog and pony show at Mackinac Island
The dog and pony show is a part of Mackinac Island's annual Lilac Festival. Small dogs can ride the Shepler's Mackinac Island Ferry for free.
You can also go on a guided tour aboard the Mackinac Island Carriage Tours or visit the Mackinac Island State Historic Parks.
Stop by beaches or go on paddle trips
If you're feeling more adventurous, you can get in a kayak or a paddleboard through the water tours available around Jordan Lake.
Don't miss a chance to check out the Paw Paw River. There are also a lot of beaches in the area, including Sleeping Bear Dunes National Lakeshore and Pictured Rocks National Lakeshore.
All in all
There is no shortage of dog-friendly things to do and places to see at the Great Lake State.
The question isn't what to do and where to go, but if you and your fur baby have the time to try everything Michigan offers.